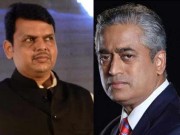 Rajdeep Sardesai replies to Devendra Fadnavis' response in which the CM accused him of bias and pursuing a Leftist agenda against his government in Maharashtra.
Former RSS chief Balasaheb Deoras quietly established a link with PM's house and expressed strong support for many steps taken to enforce order and discipline.
Delhi Dy CM accused a Hindi news channel of running a fake story to defame the AAP govt under pressure from BJP and Modi government on onion prices.
Rahul said Modi would try to usurp farmers' land in Bihar. BJP said the grand-old party was reluctant to make him the president because of childish statements.
A group of scribes from Britain, India and Pakistan asks ISI General Durrani on Pakistan's misuse of aid money on sponsoring terrorism in India and elsewhere.
Another area of disagreement between the govt and veterans still persists over constitution of the panel to look into all aspects of OROP and submit its report.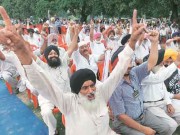 Ex-servicemen who took voluntary retirement, about 40% of whole, will not be entitled to OROP, says govt as veterans declare they will continue the protest.
Following Modi's speech and reactions by Lalu and Nitish today, we bring to you how people were responding an year ago to the same drama before Lok Sabha polls,
Among others, PM Modi expressed happiness that the agitation by Patels in Gujarat for quota in jobs and education was settled in a day even as he praised them.
Previous Hooda govt in Haryana had in 2013 accorded special backward class status to Jats which was stayed by the Punjab and Haryana High Court last month.