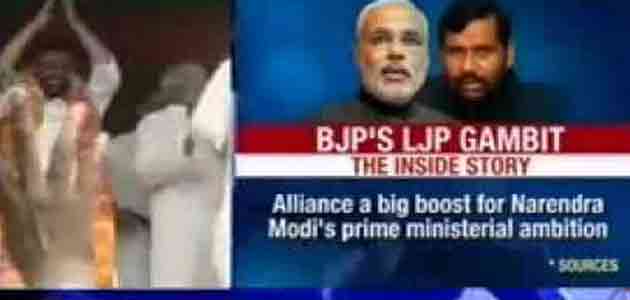 NEW DELHI: Ram Vilas Paswan's Lok Janshakti Party (LJP) and BJP announced a tie-up between the two parties in the forthcoming general elections in Bihar on Thursday.Addressing a joint press-conference here on Thursday, BJP chief Rajnath Singh and RamVilas Paswan told mediapersons that both parties have agreed to go to the polls together. Under the pact, LJP will contest in seven out of the 40 Lok Sabha seats in Bihar.
The seats for which there is a broad agreement so far include Hajipur, Samastipur, Jamui, Munger, Khagaria and Vaishali. Discussions for the last two days have mainly focused on the seventh seat, which could be Nalanda.
Paswan had quit the NDA government, led by Atal Bihari Vajpayee, in 2002 following the Gujarat riots with Narendra Modi as the chief minister.
However, he made clear today that his party had no problems with Modi being the PM candidate of NDA. He expressed confidence that NDA will come to power in the coming elections.
The LJP joining hands with the BJP ahead of the crucial general elections may prove to be a setback for the Rashtriya Janata Dal (RJD)-Congress combine in Bihar.
The Paswans are the most preponderant group among the extremely backward castes of the state. It is willing to stand up to the upper caste and capable of getting Dalit votes with an even spread in all constituencies.
Welcoming Paswan to the NDA fold, Singh said, "All Dalit leaders are approaching us. Everyone wants Modiji as PM." He added Paswan would meet Modi and Vajpayee.
However, the lone LJP legislator in Bihar (Araria seat) Zakir Khan has resigned to protest against Paswan's party getting close to the BJP.