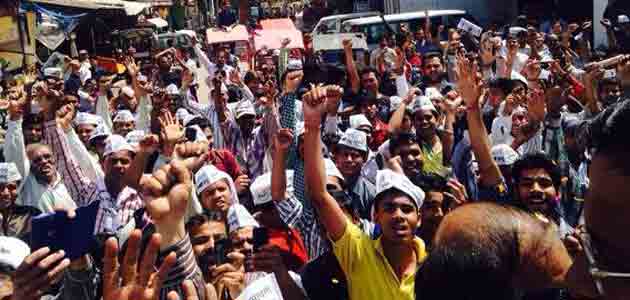 NEW DELHI: In a new twist to the government formation attempts in Delhi, the Aam Aadmi Party (AAP) is in the danger of losing its status of a political party.
As per provision, at least 100 people, not members of any political party, need to file affidavits to form a political party and apply for its recognition.
In case of AAP, 100 such affidavits were filed in November 2012 for its accreditation. However, two of them Omendra Pratap Singh and Punit Nath Shukla are learnt to have not resigned as members of the Jan Raajya Party before filing their affidavits.
The Jan Raajya Party (JRP), which claims membership of the two, has taken the case to the Election Commission and has appealed for cancellation of AAP's accreditation as a political party.
If AAP loses its accreditation, all of its MLAs and MPs will be recognised as Independents. In that case, the anti-defection laws will not apply to them and the elected representatives are free to affiliate themselves with any party, making the job easy for BJP to garner support of required MLAs to form a government in Delhi.
At the same time, the two AAP leaders Omendra Singh and Punit Shukla may face criminal charges for forging documents to cover their tracks. They had stated in December 2012 that they had resigned from all party posts of Jan Raajya party.
"The resolution was dated November 23, 2012 before AAP's formation in December 2012. However, we have confirmed this resolution to be a forgery, " said Raghav Awasthi, counsel for the JRP.
Now that the Delhi High Court has authorised the Election Commission to decide on the status of AAP, all eyes are on the election watchdog as political circle is abuzz of BJP staking claim to form a government in the capital.