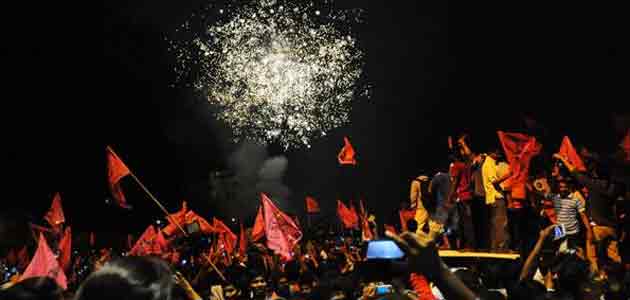 HYDERABAD: Telangana came into existence as the 29th state of India on Monday and TRS supremo K Chandrasekhar Rao (KCR) was sworn in as its first chief minister, capping the decades-old struggle in the region for carving out a separate state from Andhra Pradesh.
60-year-old KCR took oath as chief minister along with his son K T Rama Rao, nephew T Harish Rao and nine others administered by governor E S L Narasimhan at Raj Bhavan.
Celebrations erupted in the state to mark the historic event that came after a long-drawn-out process of bifurcation of Andhra Pradesh.
Nine other cabinet ministers were sworn in the new state -Mohammed Mahmood Ali, T Rajaiah, Nayani Narasimha Reddy, Eatela Rajender, Pocharam Srinivasa Reddy, T Padma Rao, P Mahender Reddy, Jogu Ramanna and G Jagadish Reddy.
The swearing-in ceremony was not without controversies, as chief minister-designate of successor state of Andhra Pradesh N Chandrababu Naidu skipped it, in what is seen as first signs of discord between the two "regional satraps".
Sources said Telugu Desam Party president was peeved that there was neither a personal invitation nor a telephone call; it was said to be a routine invitation from the administration.
Naidu, who was swept to power in the successor state of Andhra Pradesh, is slated to be sworn in as Chief Minister on June eight at a ceremony to be held between Vijayawada and Guntur.
Welcoming the formation of Telangana, Prime Minister Narendra Modi promised complete central support to help take the state to newer heights of progress. He congratulated KCR on becoming the first chief minister of the 29th state and expressed best wishes to its people.