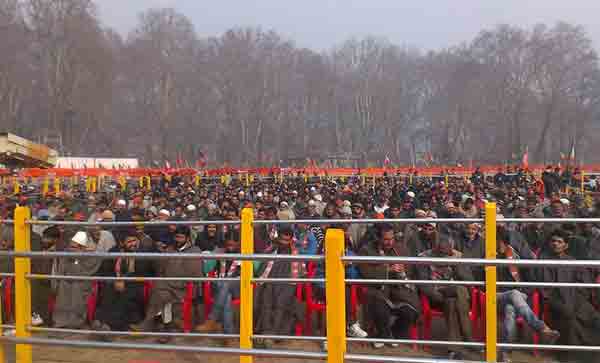 SRINAGAR: Prime Minister Narendra Modi addressed his maiden election rally in the Valley at the Sher-e-Kashmir Cricket Stadium here on Monday, the first time since 1983 that anyone has held a rally at the stadium.
Modi arrived in Kashmir to visit the Army headquarters first and paid tributes to the soldiers killed in Friday's terrorist attacks in Uri. The militant attack had claimed lives of 11 including eight soldiers and three policemen.
The PM then addressed a huge gathering at the Sher-e-Kashmir stadium where former Prime Minister and senior BJP leader Atal Behari Vajpayee had delivered a speech 11 years ago. Find below some selective quotes of Modi:
You have defeated the bullet by using the ballot.
The finger pressing EVM is stronger than the one on AK-47.
I assure you that I will return the love that you have showered on me with interest — by development.
Atalji spoke of Insaniyat, Kashmiriyat & Jamhooriyat. These are the pillars on which we will build Kashmir.
Father-son or father-daughter have ruled J&K but did nothing, it's time to reject dynasty politics in the state.
The kind of public meetings I am seeing, especially in J&K, I can't believe the 'jan sailab', the unprecedented crowds.
It is nation's responsibility to resettle all those displaced from Jammu & Kashmir.
I was told it's the first time since 1983 that anyone has dared to hold a rally at this stadium.
Atal Bihari Vajpayee ji made a good start. We have to carry that forward.
Your pain is my pain, your troubles are my troubles.
Mobile internet has been snapped in occupied #Kashmir.
We want to arm the youth of Jammu and Kashmir with technology.
There are so many places here, if developed, they can attract so many tourists.
I shifted the focus in Kutch to development. Today, it is the fastest growing district in #India.
If Kutch can develop, #Kashmir can also develop.
The soldiers on the border have sacrificed their lives to protect this democracy, this sacrifice should not go in vain.
The way Army protects India, you confront challenges at the border in the same way.
The overwhelming response in the the last two phases shows that people of Jammu and Kashmir believe in democracy.