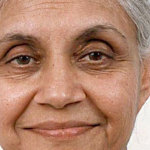 NEW DELHI: Sheila Dikshit, chief minister of Delhi for last 15 years, resigned from the post following people's mandate against her party in the Assembly polls Sunday.
"Bewakoof hain na hum (we are idiots, right?)", an upset Sheila asked a reporter who sought her response on if her party failed to read the mood of the city it ruled for 15 years straight.
BJP was set to form government in the national capital with 32 seats in its bag in the 70-seat Delhi Assembly by the time story went live. Janata Dal United, Shiromani Akali Dal and an independent candidate was leading in one seat each.
Rookie Aam Admi Party was next to BJP in the race with 29 seats followed by Congress that managed eight seats till then.
The counting is still in progress and near the last lap as AAP supporters began celebrations saying their failure to form government does not matter and they will play the role of a constructive opposition party and guard against any misrule by BJP.
The election results surprised every one as almost all exit polls after the elections had predicted no significant difference in number of seats by Congress and AAP.
AAP convener Arvind Kejriwal was leading in New Delhi constituency with a big margin ahead of Sheila Dikshit.