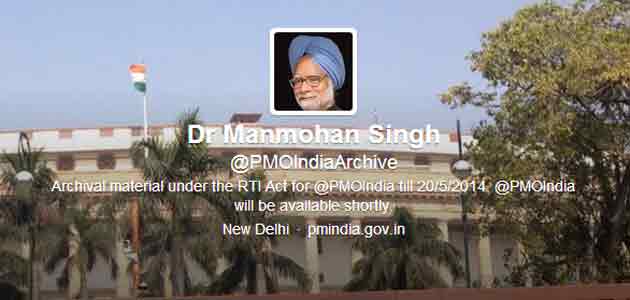 NEW DELHI: Days before the outgoing Prime Minister Manmohan Singh relinquishes his office, a move to change the Twitter handle of the Prime Minister's Office from @PMOIndia to @PMOIndiaArchive has snowballed into a controversy.
BJP spokesperson Meenakshi Lekhi strongly condemned the move, calling it illegal and disgraceful. She said the Twitter handle is not a personal property of the outgoing PM and belonged to the country.
The control of the account must remain with the Prime Minister's Office and should have been handed over to the PM-elect Narendra Modi's regime after his swearing in on May 26.
The content of the old account was transferred to the new handle along with the 1.24 million followers. Soon after the transfer, a new independent Twitter handle @PMOIndia emerged, inviting strong condemnation from BJP leaders who believe the handle is a "national digital asset", and should remain with the PMO.
However, Pankaj Pachauri, communication adviser to the outgoing PM Manmohan Singh, said the transfer was carried out with a view to archiving all communication in the PMO as per provision under the RTI Act.
"All our official communications are being archived according to the RTI Act. Copyrights and control remain with the office. This is an office account and the office continues to manage it," he said.
The move will facilitate handover of the official communication under the UPA regime to the new administration, Pachauri said further. But the BJP leaders rejected the explanation by Pachauri, saying the UPA government is damaging its reputation in its dying hours.