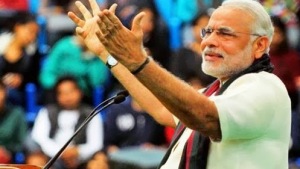 NEW DELHI: Delhi Chief Minister Sheila Dikshit on Friday took a dig at Gujarat Chief Narendra Modi saying he is no threat to the Congress in the coming state Assembly polls as he does not know the state.
She added, "Anger against the UPA government will not affect Delhi elections as we have fulfilled all our promises. We need the fourth term for the unfulfilled one."
Activist Arvind Kejriwal led Aam Aadmi Party will also be in the fray for the coming elections. She said, "Spolier is the right word for the AAP."
The Delhi Chief Minister exhuded confidence of a fourth straight victory in the December 4 Assembly elections, saying her government's "performance" in the last 15 years will be the main poll plank.
Reacting after Election Commission announced date for the Assembly polls, Dikshit, who will lead Congress in the electoral battle, said, "I am totally confident of Congress' victory in the election. We are fully prepared for the fight. I am sure people of the city will continue to support us."
Dikshit, who led Congress to three straight wins in Delhi beginning 1998 and has been at the helm of affairs for 15 years, said development work carried out by her government has been "visible" in the city and she will seek people's support based on her performance.