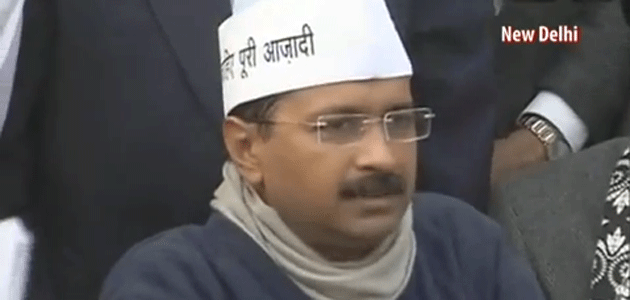 NEW DELHI: With reports of a change in mind over government formation in Delhi, AAP chief Arvind Kejriwal begged apology to the people of Delhi and the country Wednesday for bringing an end to its first government in 49 days, just before the Lok Sabha elections.
The social activist-turned-politician who happens to be the youngest chief minister of Delhi also, acknowledged his party's fault. The apology came amidst reports that his party is gearing up for fresh elections in the Capital after Congress said no to extending support to AAP any more and BJP prefers to go for fresh polls, keeping in mind the massive mandate it got recently under Narendra Modi's leadership nationwide.
There have been media reports for last couple of days over attempts to form a government for Delhi by AAP with outside support from Congress. However, most of the party members oppose such a move as they feel they will lose whatever dignity left to them after Kejriwal resigned in March as the Delhi CM.
"I apologize to the people of Delhi and the country for resigning midway," Kejriwal told reporters. "We had a meeting and we have decided to gear up for elections. We will go among the people, will hold various meetings in Delhi in the coming days. We will apologize to people of Delhi in meetings and gain their trust to ask them to support us with complete majority," he said. Asked about the possibility of forming a government again, Kejriwal said, "There were possibilities but none can be seen feasible at present to form the government."
Kejriwal had on Tuesday met lieutenant governor Najeeb Jung and asked him not to dissolve the assembly anytime soon, saying it will hold public meetings across the city to know whether the party should form the government again.