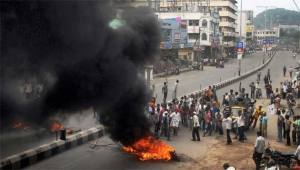 NEW DELHI: The Telangana decision triggered further protests in Seemandhra region and a flurry of resignations by Union ministers and MPs opposed to the division of Andhra Pradesh.
HRD minister M M Pallam Raju, who last night held back his resignation, today announced his decision to go ahead with it ignoring Prime Minister Manmohan Singh's counsel not to take any hasty step, as per a report published in Times of India website.
Kotla Surya Prakash Reddy, MoS Railways and son of late Rayalaseema stalwart K Vijayabhaskar Reddy, also said he met the Prime Minister and gave his resignation. Singh advised him against taking any "emotional step", according to him.
Other ministers K Sambasiva Rao (Textiles), K Chiranjeevi (Tourism), D Purandeswari (MoS Commerce) and Killi Kruparani (MoS IT and Communications) are also understood to have resigned, according to their aides.
Congress MPs, who had already resigned from the Lok Sabha on Telangana issue, have now threatened to quit the party. They include R Sambasiva Rao, Ananta Venkatarami Reddy, Sabbam Hari and Vundavali Arun Kumar.
At a press conference in Delhi, Sambasiva Rao accused the Congress of doing injustice to Telugus and even praised BJP's prime ministerial candidate Narendra Modi.
In Andhra Pradesh also, state law minister E Pratap Reddy met governor and submitted his resignation.
The resignations took place while Seemandhra region witnessed widespread protests and shutdown. YSR Congress chief Y S Jaganmohan Reddy announced an indefinite fast from tomorrow while former chief minister N Chandrababu Naidu would begin fast-unto-death in Delhi from November 7.
Notwithstanding the resignations and protests in Seemandhra, the Congress said there was no question of backtracking while home minister Sushilkumar Shinde said such feelings were quite natural when a state is being carved out.
Chandrababu Naidu to go on hunger strike in Delhi
Telugu Desam Party chief N Chandrababu Naidu said he would launch an indefinite hunger strike in New Delhi from October 7 against the bifurcation of Andhra Pradesh.
"Congress has ruined the country and Andhra Pradesh. It has sought to bifurcate the state without addressing the concerns of Telugu people. Hence, I will go on an indefinite fast to expose Congress," Chandrababu told a press conference here tonight.
"I will draw the attention of all parties at the national level to the crisis created by Congress in Andhra Pradesh. Congress has entered into match-fixing with TRS and YSRC as well as conspired to divide Andhra Pradesh. I am launching a political battle to expose Congress," he said.
Congress has totally overlooked the 66-day agitation by the people of the Seemandhra region and made no effort to resolve the crisis, he charged.