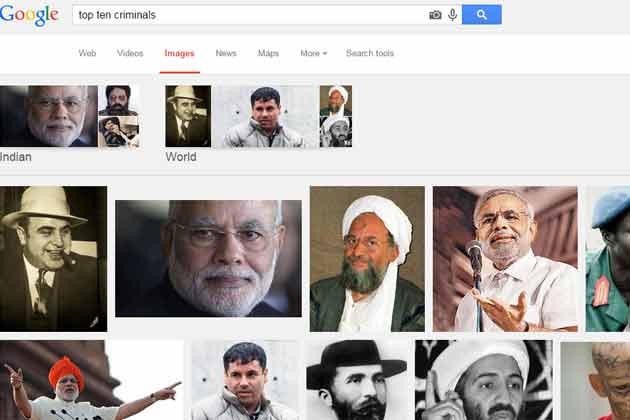 You may be shocked to discover this. An image search on Google shows Indian Prime Minister Narendra Modi among the "top ten criminals" of the world. And, not once but thrice in the list!
Modi appears along side slain Al Qaeda chief Osama bin Laden, Dawood Ibrahim, Al Capone, Joseph Kony, Pedro Antonio Marin, Felicien Kabuga and Joaquin Guzman among others. Kabuga, a prominent businessman and multimillionaire from Rwanda, is the prime accused of 1994 genocide that scalped eight lakh people.
Dawood Ibrahim, a smuggler and the main accused in the Mumbai serial blasts, controls Mumbai's underworld from Pakistan. He escaped to India's neighbouring country after masterminding a serial blasts in India's commercial capital and still operates from Karachi, thanks to Pakistan's ISI.
Guzman, the uncrowned king of Mexican drug empire, has made way to the Forbes list of "The World's Billionaires". Called next Robin Hood for generous contributions, Guzman is popular among the poors for his social welfare though.
Marin, founder of a terrorist organization, runs drug trafficking, murders, extortion, kidnappings and more heinous crimes with his own military and thousands of supporters in Colombia.
Kony who formed the Lord's Resistance Army (LRA) in Uganda in 1987, loves to dress himself as an woman and known for cruelty, called an obnoxious face of human. Al Capone joined a street gang in USA when he was a boy. He ascended to the top of American criminal enterprise soon and considered an epitome of devastation.