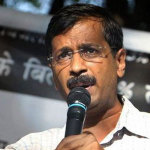 Delhi registered a record 65 per cent polling by 5:30 pm Wednesday in the Assembly elections for the 70 seats in all.
The turnout is being attributed to the close contest between Congress, BJP and the newly formed Aam Admi Party, besides combined efforts of election officials, media and social activists.
Polling began peacefully in the morning as it reached 34 per cent by 1 pm as large number of people came out in open to cast their votes and were seen waiting for their turn in long queues on a pleasant sunny day. Experts say the figure may go up later.
While BJP leaders exuded confidence saying the party is going to form government since people of Delhi are tired of Congress misrule and came out in large number to vote for them.
Voting continued in some places till 6:30 pm as Election Commission said time was extended to allow voters standing in queues to exercise their right.
New Delhi, where AAP convener Arvind Kejriwal is certainly giving a tough fight to Chief Minister Sheila Dikshit of Congress and Vijender Gupta of BJP, registered 74 per cent polling as RK puram crossed 80.5 per cent. Greater Kailash saw 79.74 per cent while Okhla was at 55 per cent.
A total of 810 candidates tried their luck in the race with an electorate of 1.2 crore including 65 lakh male voters. About four lakh fall in the age group of 18-19 years and will vote for the first time. The general elections being only months away, the Assembly elections are being seen as semifinals to next year's parliamentary polls.
Earlier, Congress president Sonia Gandhi stood in line to cast her vote at Nirman Bhawan, central Delhi before security personnel forced her to 'jump' the queue. Counting of votes will be conducted on Sunday.