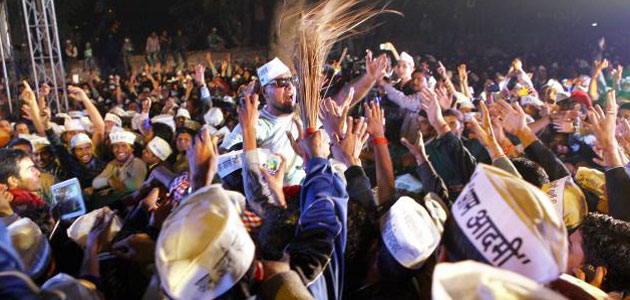 NEW DELHI: The national capital's wait for an elected government is over. Aam Admi Party has agreed to form a minority government with outside support from Congress.
A delegation from AAP, led by Arvind Kejriwal, met the Lt Governor of Delhi on Monday and formally staked claim to form a government. The Lt Governor is understood to have forwarded the claim to the President.
"We were called by the lieutenant governor to discuss government formation on December 14. We had sought time to take a decision as ours is a party of common people and we want to their views.
"We got responses from the citizens through website, phone calls, SMS and by holding public meetings and most of them favoured government formation by AAP. We are now going to give the letter to LG saying that AAP is ready to form the government," Kejriwal told reporters at AAP's office in Kausambi here.
He said the party held 280 public meetings across Delhi and in 257 such gatherings people favoured formation of government by the party while the rest opined that they it should not take powers.
Delhi went to Assembly polls on December 04 which resulted in a hung Assembly with BJP as the single largest party, followed by AAP. While BJP got 31 MLAs and one for its ally SAD, the newly formed AAP won 28 MLAs. Congress, with eight seats only, was was reduced to number three after ruling the city for last 15 years.
With general elections only months away, the BJP chose not to indulge in horse trading, and refused to assume power. The saffron party, which registered victory in three other states that went to polls simultaneously, suggested a AAP government citing outside support by Congress to the rookies. But the newly formed party refused to oblige saying it fought the elections on a non-Congress and non-BJP plank.
However, consistent demands from people from all walks of life, forced the rookies to reconsider their decision to form a government and fulfil promises it made before the polls.