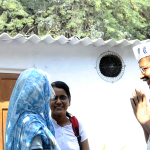 NEW DELHI: Despite an under current in BJP's favour and combined efforts by senior leaders from BJP and Congress, the 11-month old Aam Admi Party emerged the second largest party in the Delhi Assembly elections with only three short of BJP's tally on Sunday.
The saffron party could win 31 seats as it needed five more to form government in Delhi. Congress managed to get eight as its fifteen year rule came to an end. Many stalwarts of the party including chief minister Sheila Dikshit could not even retain their own seats which they had been representing for last three terms.
AAP chief Arvind Kejriwal won from New Delhi, defeating Congress candidate Sheila Dikshit by a whopping margin of 25,864 votes. Kejriwal got 44269 votes as Dikshit could manage 18405, and BJP's Vijender Kumar 17952, number three from New Delhi.